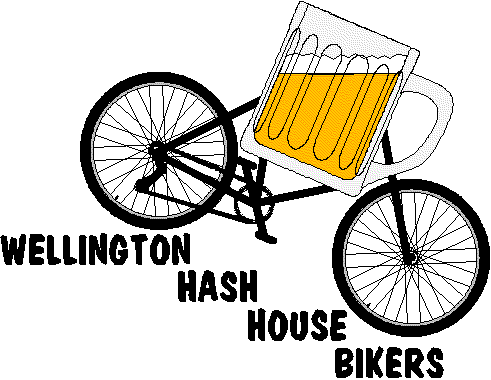 Wellington Hash House Bikers
Hash Rides

All our rides start at 1:00pm on Sundays. We ride from a different starting point everytime. Everyone is welcome, so turn up to the meeting point below and introduce yourself.
Ideally each ride should take between 2 hours to 2:30 hours. Obviously the length of ride can vary depending on the track being followed.
Each ride is followed by a social gathering known as an "ON ON". We just have a quiet few drinks and something to nibble on. So you will need to bring some money for this as we don't have any membership fees.
Up Coming Rides
26 May ... Tunnel Gully ... Meet at Tunnel Gully, north of Upper Hut.
Night Rides
For some time now a few of us have been doing various night rides through the winter months. After a bit of discussion and a couple of Sunday night outings there seems to be sufficient enthusiasm to start up a regular Sunday night ride through the winter.
Starting on Sunday 17 May, meeting at 6:00pm at Makara Peak, there will be regular Sunday night rides on the weekends between Bike Hash weekends.
For those interested but who have not done this before, you will need, along with warmer clothing, decent lights. Lights that are OK for commuting will quite likely not cut it riding in the bush at night.
As a general rule of thumb, if it is seriously raining then there is not likely to be a ride but a bit of drizzle is fine.
Archive Rides
2013
12 May - Ride from Posties Whistle, Khandallah
28 April - Wainuiomata mtb park
14 April - Belmont Trig
31 March - Makara Peak MTB
17 March - Ride from the Cutting Pub in Miramar
3 March - Snowploughs Birthday ride
17 February - Transient, Highbury Fling, Car Parts x3, Barking Emu and back
3 February - Ride from Totora Lodge, Trentham
20 January - Charlton's in Silverstream
6 January - Pencarrow Lakes
2012
23 December - Ride from the Paekak end of Queen Elizabeth Park
9 December - McKays Crossing
25 November - Ride from Makara Beach
4 November - Wainuiomata Bike Park
28 October - Ride from Cobham Court in Porirua
14 October - Makara Peak MTB Park
30 September - Ride from Fireman's arms
16 September - Makara MTB Park
2 September - Battle Hill Forest Park
19 August - Tunnel Gully
5 August - Makara Peak
22 July - Ride from the farm park car park at MacKay's Crossing
1 July - Ride from Trentham railway station car park
17 June - Ride from the West of the Hutt motorway, just by that old motel and at the beginning of Grounsell Crescent
3 June - Ride from The Strathmore Local, Strathmore Ave, Strathmore
20 May - Ride from the car park at the Crofton Down shops
6 May - Ride from the Karapoti car park
22 April - Ride from the Cambridge Hotel, Cambridge Terrace
8 April - Ride from the old Eddys Bar in Wainuiomata
25 March - Ride from the pub in Island Bay called the Local
11 March - Wainuiomata Bike park
26 February - Ride from Charlton's in Silverstream
12 February - Ride from McKay's crossing
29 January - Belmont Hills
15 January - Makara MTB park
Tuesday 3 January Ride from the Back Bencher
2011
18 December - Wainuiomata MTB park
4 December - Makara MTB park
20 November - Ride from Cobham Court in Porirua (near the Irish bar)
6 November - Ride from the Totara Lodge pub
22,23,24 October - Rotorua Trip away
9 October - Meet at The Cambridge, Cambridge Terrace
25 September - Ride from The Innkeeper, Johnsonville
11 September - Tawa
28 August - Dry Creek
14 August - Makara MTB park
31 July - Ride from the Windmill Tavern in Brooklyn
17 July - Wainuiomata MTB Park
3 July - Maungakotukutuku
19 June - River crossing (spuds) ride, Totara Park
6 June - Makara Peak MTB Park
8 May - Ride from Strathmore Local
24 April - Ride from Jay's Bar, Johnsonille
10 April - Transient
3 April - Wainui MTB Park
27 March - Wainui MTB Park (cancelled)
13 March - Tunnel Gully
27 February - Red Rocks
13 February - Ride from Firemans Arms, Petone
30 January - Charlton's in Silverstream
16 January - Mt Vic
3 January - Makara Peak
2010
19 December - Wainuiomata Bike Park
5 December - Rimutaka Incline
21 November - Meet at the Parrot and Jigger
7 November - Dry Creek
21 October - Strathmore Local
10 October - Maungatuks
26 September - car parts, roller coaster
12 September - Wainui MTB Park
29 August - Makara MTB Park
15 August - "The Office" in Newtown
1 August - Newtown
18 July - Tawa
4 July - Groundsell Crescent, off the West side of the Western Hutt Road
20 June - Wainui MTB Park
23 May - Makara
8 May - 400th ride - Mt Vic/City
25 April - Totara Park
11 April - Island Bay
28 March - Screaming-O race
14 March - Belmont Trig and down Baked Beans Bend
28 February - Wainuiomata MTB Park
14 February - Karapoti Classic
31 January - Dry Creek + 2 teams: Akattack race
17 January - St Pats Forest
4 January - Battle Hill
2009
11-14 December - Mangapurua/Bridge to Nowhere Track, Wanganui
6 December - Salvation/Wrights Hill
22 November - Maungatuks
8 November - Porirua/Titahi Bay
23-26 October - Rotorua/Taupo trip away
11 October - Skyline track from Crofton Downs
27 September - Makara mtb park
13 September - Totara Park
30 August - Belmont hills
16 August - Dry Creek
2 August - Wainuiomata outback tracks, not bike park
19 July - Karapoti Challenge
5 July - Southern suburbs
21 June - Firemen's Arms
7 June - Blue Mountains, Charlton's
24 May - Maungakotukutuku
10 May – Tawa and 24hr Moonride - Rotorua
17-26 April - Wanaka
12 April – Skyline, Crofton Downs
29 March - Kelly's Bar, Porirua
15 March - Windmill Tavern, Brooklyn
29 Feb - Makara Peak
15 Feb - Dry Creek
1 Feb – Wainuiomata BIKE PARK
18 Jan – Rotorua trip away
4 Jan - Queen Elizabeth park, Paekakariki