Ak-Attack Resources
Each rider will receive 2 maps for the event. They will be A3 and have an approximate scale of 1:25000 but may be as high as 1:20000 depending on the points used on the final course. There will be a sufficient overlap between to allow you to use one or other depending on the area that you are riding. They will include larger scale insets of small areas of the map where the track area is complex and requires more details to navigate. They have been specially created for the event and provide more useful detail to mountain bike riders than is found on a normal topographical map.
A team of riders have surveyed the area, on foot, bike and 4WD to ensure the accuracy of the tracks and especially the relevant junctions. In most cases the track geometry will be accurate, but in some cases it may vary slightly and will be noted on the map.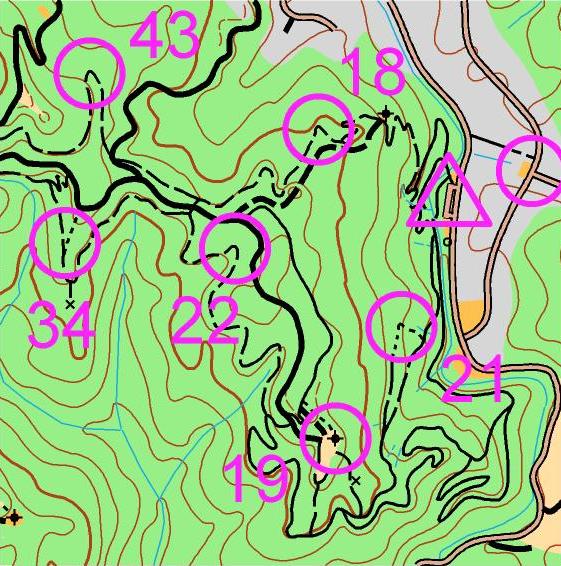 The inset shows a typical orienteering map and legend. It is the lower section of Makara Peak so that you should recognise the track network, 4wd and adjacent roads.
Contour lines are shown as brown squiggly lines you see on the map. They represent elevation in the landscape. You need to know that the closer the lines are together the steeper the landscape. There are no spot heights marked on orienteering maps. This is left for the rider to estimate based on 20m contours that will be shown.
Orienteering maps use the International Orienteering Federation's standard mapping symbols to describe the details on the map. This information can be found in the map's legend, which will be on the bottom of the map provided.
Single tracks on the map will be best ridden from top to bottom. Check the contour lines to make sure you are riding the track in the best direction. Conversely 4WD tracks are best used for climbing. But expect to meet other vehicles on the track. Most track junctions will be shown as joining, however in some cases the junction may be indistinct or difficult to find. In these cases the map will show the tracks as not joining. It may be difficult to see depending on the scale of the map. In the event we have marked these junctions with a bright blue or other colour tape from a tree nearby.

In Mountain bike orienteering, riders must stay on the tracks shown and not use the forbidden areas. When you find the point you have been searching for, it will have a marker flag and clipper to prove you were there. You need to clip your score card at the appropriate slot.
Need a map holder? See NZ MTBO web resources