CONFLICT IN RECREATION | Executive Summary | Mountain-biking | Mountain-bikers | Conflict
Politics | NZ Mtb Web
---
Mountain-bikers are varied in age, interests, previous experience and preferences. They consist of a wide range of people, from teenagers to people in their 60s, however the group is dominated by younger males. Age, gender and past outdoor experience are indicative of where preferences for mountain-biking might lie.
Figure 4 shows the age groups of those in the two samples who had been mountain-biking compared with those who had not. Although only eight of my mountain-bike questionnaire respondents had not done some walking or tramping, most of the older tramper/walker respondents had not been mountain-biking. This age distribution raises the question of whether younger people who currently mountain-bike will continue to do so as they get older.
[Note: "Non-bikers" is the term I have used to describe those in the tramper sample who have not ridden a mountain-bike, where the term "trampers" is used to describe the full sample of trampers regardless of whether they have ridden a mountain-bike or not.]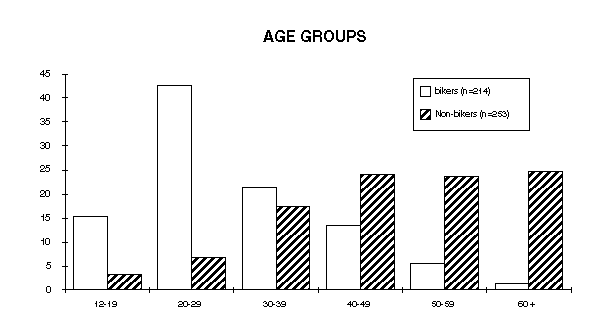 Figure 4: What age group were you in on your last birthday?
Most of the tramper questionnaire respondents were over 40 years of age. As I contacted trampers by sending questionnaires out to tramping clubs in the Christchurch area, this tends to indicate that younger people (less than 30 years) are not in these clubs. According to one of my interview respondents, however, the number of tramping and walking clubs in the Christchurch area has increased greatly over the last 12 years. Many clubs go out mid-week onto the Port Hills and the foot hills areas in Canterbury. They seem to cater for older people (i.e., a similar clientele to those in the Over Forties' Tramping Club), who use the well tracked, easier routes in frontcountry areas.
[Note: "Frontcountry" is used throughout this paper to mean areas not more than a day's walk from the road. Periurban areas are therefore included in the term frontcountry.]
A significant number of people I talked to, both formally and informally, noted that tramping clubs are less popular with the younger age groups than they used to be. Clubs that used to cater for younger members such as the Christchurch and Peninsula Tramping clubs also appear to have few members under thirty. The mountain-bike club did have a number of younger members, but, with an overall membership of around 40, this is a very small proportion of mountain-bike owners in the Christchurch area. One respondent felt that there are fewer younger tramping club members because they have many outdoor activities to choose from and are doing a wider range of activities. WONZ (Women outdoors, New Zealand) is a club that caters for a range of activities and it has a good age spread with members in their 20's as well as in the older age groups, however, membership is not large. It does appear from this research that clubs in general are smaller and, in particular, few people under 30 are joining them.
As with other outdoor activities, women are under-represented in mountain-biking according to the questionnaire results, and these are supported by my observational and interview data. Few school-aged girls regularly ride off-road on their mountain-bikes. A very small number returned cards that had been left in tramping huts indicating that some females in this age group are getting into the outdoors through tramping. There appeared to be no school-aged members of WONZ and there were no females of school-age in the mountain-bike club. It is interesting to note the even numbers of males and females who make up the walker-only or non-biker sample.
Most of the female mountain-biker respondents were keen trampers and/or climbers who had branched out into mountain-biking. Many of the women I talked to formally and informally had little or no interest in competing, and constant reference to competition had put them off going out with the Canterbury Mountain-Bike Club. In contrast, Karen and Jo were keen competitors who regularly went out with the club. Neither of these women had previous experience in the outdoors and they were most interested in competition biking. Much of their recreational riding was done with a view to improving their technique and fitness so they could improve their race performance.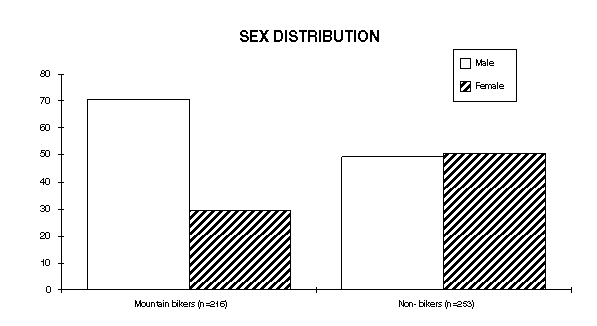 Figure 5: Are you a male or a female?
The education level of bikers is very similar to that of the walker/tramper group, and reflects that of other outdoor recreationists in being higher overall than the general population. According to the 1991 census figures, only 13 per cent of the general population between the ages of 20 and 40 have tertiary qualifications whereas, in this sample more than 35 per cent of respondents have university degrees, while another 30 per cent have vocational qualifications (both these categories were included under census tertiary qualifications).
Many of my respondents were still completing a degree at university and so only had a seventh form as their highest qualification at the time of response. This latter figure will be influenced, in part, by the fact that as one method of sampling I handed out questionnaires to students in enrolment queues who said they had mountain-bikes. This method could be expected to skew the figures for those with seventh form qualifications, but not for those who had already completed university degrees. Figure 6 illustrates the results of the question on education.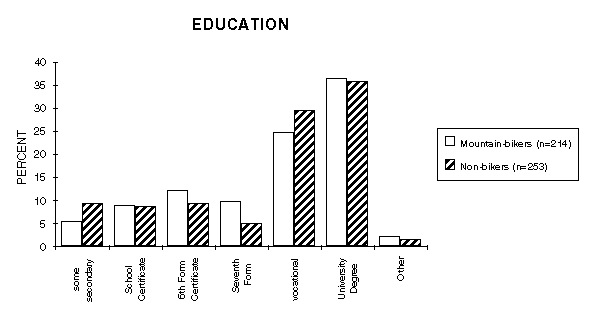 Figure 6: What is your highest educational qualification?
There are a number of different groups within the classification "mountain-biker". Rodney, the manager of a bike shop spoke of three groups:
first, road cyclists, involved in touring and/or time trials who have either changed to mountain-biking or added it to their cycling repertoire. Rodney also mentioned "young guys" who started mountain-biking after BMX riding "lost its edge". This is a very likely combination, as BMX and mountain-bikes have a lot in common including race series and technical riding challenges.
second, are people who have been involved in tramping or skiing who, according to Rodney, " . . . use mountain-bikes to do what they've always done." This implies that some people may see mountain-biking as a substitute for these other activities; and
third, there are people mountain-biking who have not participated in an outdoor activity before. This group is small. Most bikers participate, or have participated, in a range of outdoor activities. Respondents that did fit into this category (e.g. Karen and Jo above) tended to focus mostly on the activity itself, and less on the outdoor environment.
Classifying bikers in terms of their participation in other outdoor activities was common amongst bikers and trampers that I interviewed.
Rodney thought that some bikers, who had not participated in a physical activity previously, did have some experience in motocross. Significantly more mountain-bikers than trampers had ridden trail-bikes previously (see figure 7), however, all the trail-bikers I spoke to had also done a range of other outdoor activities. According to the ranger at the Sign of the Kiwi, off-road motor biking on the Port Hills has decreased markedly in recent years. It is possible that mountain-biking has taken some people away from motocross because it offers a similar experience at a lot less cost and is considered more "environmentally friendly."
Four interview respondents said they had been trail-biking. Two mentioned that they had become concerned by the environmental effects of motor-bikes and frustrated by the limitations of them. To them, mountain-bikes were a more flexible system of transport, more environmentally friendly and less limiting in where they could go: you can carry a bicycle over a slip, for example, but a slip stops a motor-bike.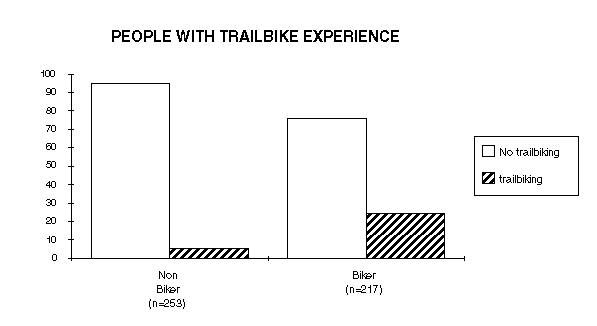 Figure 7: Derived from "What other outdoor activities have you done in the past?"
Many interview respondents had spent a lot of time commuting, racing or touring on roads. One interview respondent changed from road cycle racing and touring to mountain-biking because he was appalled at the behaviour of motorists.
I was a cycle tourist for a couple of decades and then I became a competitive road cyclist for a decade . . .eased out of that and went back into cycle touring with my wife, and we arrived back in New Zealand five years ago after a [cycle] touring trip around Europe for three months. We went out for a ride and within half and hour we'd been abused and we turned around and said "oh sod this . . . I was anti mountain-biking then . . . and these young guys encouraged me to give it a go. They took me up this lovely piece of track with all this beech litter on it - just twisty windy, smooth and a few little bumps and it just blew me away . . . within six weeks my wife and I had both bought mountain-bikes.
Another male in his forties, who was adamantly against mountain-biking on the Port Hills, was introduced to it shortly after I interviewed him. He has added mountain-biking off-road to his repertoire of road cycling, running and walking.
Many mountain-bikers said they found that when people have a go at mountain-biking, they find they like it, and the experience of these two respondents supports this. If this is so, it is reasonable to expect that the older age groups will increase their participation in mountain-biking and that today's mountain-bikers will continue their participation in the sport. Age is most likely to become limiting where the physical fitness of the participants makes biking too difficult. This is particularly so in places like the Port Hills in Christchurch where most of the tracks that bikes can use legally involve strenuous up-hills and down-hills. Ideally therefore, there should be tracks to cater for different levels of fitness and preference. At present there is little for people who want a more gentle ride, a fact that may deter older or less fit people from trying mountain-biking.
Overall, many mountain-bikers use their bikes on roads and many have a mountain-bike and a road bike. All who had biked a lot on the roads noted the danger of being close to speeding traffic, the need to be always watching out for those motor vehicle drivers who lack manners, and the feeling of not being able to control the danger in the situation. Mountain-biking is seen as a better option by many because this "uncontrollable" danger is eliminated.
Mountain-bikers usually have some previous experience of tramping or walking (only eight biker questionnaire respondents had not either day-walked or tramped) and are more likely than non-mountain-bikers to have tried a wide range of activities (see figure 8). The only thing that walkers do more often is walk! Even teenaged respondents had usually had some experience of other outdoor activities, often as a result of outdoor education programmes at school. In comparison, most older walkers/trampers had not tried activities such as kayaking, running, etc.. Some of these people have walked for most of their lives but have not had the opportunity to try out new activities, while others have taken up walking later in life.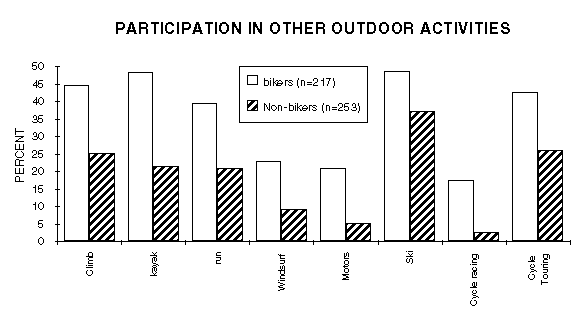 Figure 8: What other outdoor activities have you done in the past?

Older people may not regard cycling as fun. One retired male noted that he had spent all his working life cycling to work because he could not afford to run a car, and that, to him, cycling was a chore rather than a choice. For others, cycling was not really a form of recreation but a way to get down to the local shops. In spite of this, one or two respondents noted that they had taken bikes off-road in their youth but had called it by a different name:

In the UK in the 50s and 60s and for many years before, club cyclists and solo [cyclists] crossed the mountain passes with their bikes - not mountain-bikes, which had not been thought of then, but their road bikes with one and one quarter inch tyres. We called it pass storming.

I myself have done a few passes, including the highest pass in the country, the Laing Ghru in 1964, a 30 mile off-road trip which included a lot of carrying. So it is nothing new!

I also heard stories of exploits such as one couple who had tried to bike through the Routeburn track for their honeymoon during the fifties (apparently they abandoned the bike at Harris Saddle when the going got too difficult). So the concept of biking off-road is not a new one and this is frequently mentioned by today's mountain-bikers who see it as an historical legacy that legitimises their activity.

One of the advantages of mountain-biking for younger people is that they do not need extra transport in order to go out for a ride. Kayaking, skiing and tramping require the use of a car, which many do not have, unless their parents want to go as well. The significance of this economic factor was amplified when several of my interview respondents noted that they had started tramping as teenagers. Every Friday night they caught the railcar up to Arthur's Pass and returned on the Sunday night service. Both services were within the price range of young trampers, however neither service is still in existence. The service that does run is relatively expensive, is aimed at tourists, and no longer stops at convenient starting-off points for trampers. Private transport is therefore the only option for people wanting to go tramping for a weekend. Most teenagers cannot afford a car, and there is the added problem of cars getting broken into at road ends. Mountain-biking is, therefore, a very accessible activity that allows individuals to get into the outdoors cheaply and easily.

Many mountain-bikers feel that mountain-biking is a good activity for those situations when they are short of time and unable to go tramping or kayaking, for example, for a whole day or a whole weekend. People often mentioned this in conversation so it seems that, as well as being more economically feasible for some, mountain-biking is an ideal activity for those with little spare time.

Time deepening is a phenomenon reported by those looking at changes in western lifestyles over time. As people become financially and educationally better off, they have a wider range of choices available to them in their leisure time. These choices are also increased by the market economy, which encourages innovation and invention of new technologies of play and by advertising media such as the television, which increase people's knowledge of their leisure choices. An interesting corollary of this freedom of choice, however, is that time has become the scarce commodity.

Not only has technology increased the possibilities of play, it has also had a major effect on people's work experiences. Computers, for example, have allowed us to do much more in less time and this seems to be "rubbing off" into people's leisure worlds. Goodale and Godbey (1988) suggest the desire to be more efficient with our leisure time has grown alongside the drive for efficiency that is happening in the workplace at present. There also seems to be general approval of those who pack a lot of activity and experience into their lives. However, Goodale and Godbey question how much happier these people are when compared with those who take a more relaxed and measured approach. Taking a wider view, this new achievement-oriented approach to leisure may be a result of a lack of achievement and autonomy in the workplace or, alternatively, a reflection of the values that are espoused there.

Time deepening, then, results in people trying to use leisure time more productively. It can mean doing two activities at once; for example, watching the television and eating a meal at the same time; to calculating the use of time more and more precisely. For example, a three hundred kilometre car trip might be calculated to within 15 minutes of the time it takes. Goodale and Godbey (1988) consider the appearance of fast food outlets an indication of the increased scarcity of time in the modern world. Where once people might have taken an hour over lunch it is more and more common to see people eating and leaving within 15 minutes.

There are many indications that time deepening is occurring. The popularity of mountain-biking seems, in part, to be due to its ability to provide a concentrated physical and mental experience in a short space of time. Interview respondents frequently noted that they could work around home and then go out for a bike ride and "feel as if they had gone tramping for the weekend."

Many interviewees and some questionnaire respondents felt that family and work commitments meant that they could not get away tramping or climbing so mountain-biking provided a reasonable alternative. Mountain-biking was also seen as a good activity for mixing with other pursuits. For example, some windsurfers felt that mountain-biking was the ideal sport for filling in windless days. Mountain-biking, therefore, is seen as a fast, more intense activity that can sometimes substitute for tramping when individuals cannot get into the mountains, or are unable to participate in their first choice of activity.

The advent of endurance running and events such as the Coast to Coast in Arthur's Pass National Park also seem to reflect a desire for higher intensity experience in a shorter time.

In spite of the apparent substitutability of tramping and mountain-biking, there is evidence to show that they are significantly different experiences. While Rodney (who was not a tramper himself) thought of mountain-biking as something akin to tramping; a way to do the same thing on a different medium, Karen, a keen tramper and biker expressed surprise at this.

I'll often go to the same place on a bike and tramping and they're such totally different experiences. The bike experience is exciting and dangerous and it's the thrill of the moment and you don't really have much time to appreciate the surroundings except in as much as they provide obstacles which you need to preserve your life over . . . whereas for tramping there is . . . that sense of peace and tranquillity that you get from being in the bush . . . .

The interview data indicate that trampers who do more physically difficult trips, are likely to see mountain-biking as a way of being able to use accessible, easy walking country to do equally challenging trips. Only the interviewee above said that she walked and biked in the same places. Most bikers felt that they would not walk in the same places in which they bike, in spite of being keen trampers, and the reasons most commonly given were that they were too boring or not physically challenging enough (one or two bikers thought that they might start walking some of these tracks as they got older). Bikers who were also keen trampers tended to tramp in more inaccessible, challenging places, such as in wilderness areas in national parks. As Philippa, a keen biker and tramper in her 30s, commented;

The ultimate for me is being in the remoter areas and being on the tops . . . tramping for me is like pushing out onto the tops - just working your way up a valley, seeing the vegetation change and then the streams and then pushing onto the tops and camping out.

Walkers who did not bike tended to use more accessible places for preference and were often seeking well formed tracks which allowed them more time to appreciate their surroundings. For keen bikers, if a track is rideable, then it is probably not satisfying to walk.

While most bikers felt they would not walk in the same places that they used for biking, many thought they would like to bike in some of the places they had walked. This was particularly so in areas where there were well developed, gently graded tracks that they had not been into before. Using a mountain-bike thus intensifies the experience of using outdoor areas, which means many bikers ride in areas that they would not otherwise use. This is particularly important in high-use periurban areas, like the Port Hills, where any problems of incompatibility are magnified by a concomitant increase in user numbers.

It is interesting to note here that, prior to the advent of mountain-biking, many of my backcountry tramper friends had taken up running which also allowed a more strenuous use of, what might be considered easy walking country. The success of the "Coast to Coast" was probably also a reflection of the desire of some trampers to challenge themselves more physically as well as . Certainly at the time the first Coast to Coast was run, this was the case amongst many of my tramping friends. Some people I spoke to in the course of this research noted a change from the original competitors who wore rugby shorts and woolly singlets to today's runners who wear lycra and bright colours (in fact, clothes that are very similar to those which well-dressed mountain-bikers wear). While this is no indication of change in itself, it does appear to reflect a change from participants who once were mainly trampers, to participants who now specialise in multi-sport and ultra-sport events, and for whom the hills are mostly a place to train and test themselves. Many of the people now using the outdoors in this way may actually have little experience in the outdoors a fact that made many trampers, and some bikers express the concern that triathletes and bikers might be putting themselves at risk through being under-equipped and, perhaps, overambitious.

Both mountain-bikers and trampers felt that some bikers are ill-equipped to deal with emergencies.

Trampers were more concerned with bikers they had met while on overnight trips who appeared to be carrying very little gear. While mountain-bikers carry relatively small packs for overnight trips, it appears these bikers are usually very experienced in the back-country having lightweight equipment and being skilled at deciding exactly what they need. A few interview respondents, all very experienced trampers, noted that the gear they carry overnight on a bike is very lightweight;

. . . if you go for an overnight trip, you take a 30 to 35 litre pack . . . and cram everything you need into it. The same safety rules apply as for tramping - you need to carry three layers, but you just cut it down very light . . . a very small sleeping bag - one filled with down on the top only and sometimes you debate whether to take a stove . . . often you just take cold food because that cuts out the billies . . . You carry it on your back because a carrier is more to catch on and generally you stay in huts so you don't have a tent to worry about . . . .

Overnight trips on a mountain-bike tend to be only one to two nights in length, so the amount of gear needed is less. The biggest area of concern amongst bikers appears to be those inexperienced mountain-bikers going on day trips without the appropriate food, clothing or repair gear.

Mountain-biking, like cycling generally, is a strenuous activity and it is not uncommon for a rider to become hypoglycaemic or to "run out" of energy. From personal experience this causes one to get the shakes and to feel overwhelmingly weak. Of course the "bonks" as most cyclists seem to call it, can be quite serious if one does not have suitable or sufficient food because it becomes very difficult to keep going. The ranger at the Sign of the Kiwi deals with this problem frequently and has had to give away Moro bars to mountain-bikers and road cyclists so they can get home.

This subject was a topic covered extensively at one mountain-bike club meeting. A number of people with little experience in the outdoors had obviously had problems on club trips. The "bonks" are talked about a lot in cycling fraternities however the same phenomenon is not so well known to trampers. I had never experienced "running out" whilst tramping even on the most strenuous trips, however it has frequently occurred on cycle touring trips and this seems to have been the experience of others who have done both activities. Unsuspecting trampers could therefore also run into the trap of not carrying enough food on a mountain-biking trip.

Dehydration is another very real problem as it creeps up on riders who are unaware that they need to keep drinking. Similar problems are experienced by long distance runners or even trampers. Quite a number of bikers I spoke to had become severely dehydrated during races - perhaps an indication of the effort and commitment of the riders. Dehydration is important for recreational riders who can easily find themselves a long way from drinking water. Overall the physical intensity of cycling is deceptively high, so it is easy to become hypoglycaemic or dehydrated.

Mountain-bikers can end up a long way from anywhere because they can go long distances quickly. Breakdowns, of bikes or people, in that situation can be serious, especially if the rider is ill-equipped. Experienced mountain-bikers who have had breakdowns in these places expressed concern that younger or less experienced bikers are liable to get themselves into trouble by not carrying the appropriate repair gear. Similar concerns are expressed in tramping clubs and usually new members are given a list of what should be carried on trips. Because mountain-biking is such a young sport a lot of these "safety net" procedures have not yet been set up. Clubs, which now seem to have fewer young members, are not adequate agents of education. It does seem that there might be a role here for outdoor education in schools to teach children the sorts of emergency gear they should be carrying. What schools lack, that clubs have, is role models, so it seems that having mountain-bikers go into schools would be the most effective means of educating future and present bikers. The job is also made harder by the image the media give of mountain-bikers.

The media paint mountain-biking as a fast exciting sport and until recently, many mountain-bike magazines used a lot of action shots with bikers flying through the air or speeding or skidding through mud. Racing is the aspect of mountain-biking that gives best viewing for television and that tends to show similar images. In neither set of cases are bikers seen carrying anything in the way of emergency gear. Inexperienced bikers with only these images to guide them are unlikely to think of the possible problems that they might come up against, nor the damage that they might do to the places they are visiting. These images also do not help the overall image that other members of the public have of mountain-bikers. Many mountain-bike magazines are scaling this down as a result of criticism from their readers who now find these images a major political disadvantage.


Just as in tramping, there is a wide variation in the way people approach mountain-biking: some trampers are competitive and look for challenge, while sometimes bikers go out purely to get into the outdoors and appreciate nature. Some like biking on four wheel drive tracks, while others prefer narrow tracks through bush or tracks that are technically difficult. Overall, however, motivations for tramping and walking are significantly different as indicated in Figures 9 & 10. It is difficult to be certain whether these differences represent real differences in the focus of the activities or whether they reflect the age differences of the two groups.

Mountain-biking is a fast, exciting form of outdoor recreation that can require a lot of physical exertion, and allows for widely varying degrees of skill. When asked why he liked mountain-biking Peter noted;

. . . obviously I liked the outdoors and I've always liked tramping and biking but one of the interesting things about mountain-biking [is that] it is a very physical, cardiovascular sport and that's good because it's good for training. But the other great thing is that it's got an amazing sensation of speed and there's quite a lot of skill required, so it's a sport that combines quite a lot of things. It reminds me in a lot of ways of . . . the downhill bits of skiing [amongst] trees overseas.

It provides challenge and fun for all who take part. The "fun factor" in mountain-biking was noted by many people including those who had not tried it. One mountain-biker described mountain-biking as a "drug" . For many, the drug is the speed that is reached going downhill. For Mary, a self-confessed "couch potato", mountain-biking was the first physical activity that she had ever done. She disliked the walks her parents took her on as a child, but when a close friend introduced her to mountain-biking, she got hooked on speeding downhill and, from there, her involvement grew:

I used to hate it - I used to have this love - hate thing. I used to love it when I got to the top, and when I was going downhill, but going up . . . it was so hard. But now I really just love it. I've got a new bike and even when I'm going uphill I really enjoy it.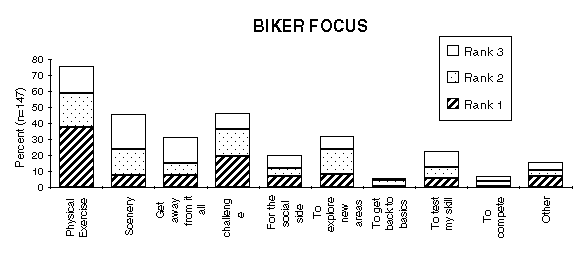 Figure 9: Why do you go mountain-biking? (please rank only 3 in order of importance, 1 = most important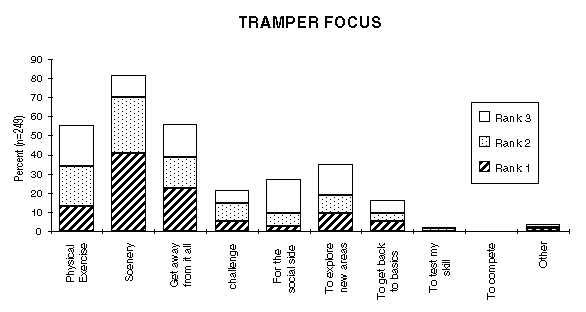 Figure 10: Why do you go tramping? (please rank only 3 in order of importance, 1 = most important)
About ten mountain-bikers wrote "for the thrill" as one of the three main reasons they had for going mountain-biking. Had this been one of the tick-the-box options, it may have figured more prominently as an answer. It was mentioned frequently in interviews. Excitement stems from the sensation of speed and the adrenalin rush that the danger inspires. The danger is very real. One respondent spent a week in hospital as a result of a crash which also "trashed" her bike. While the risk is not at the same level that might be attributed to some alpine climbing, it obviously provides a range of "thrill levels". For Mary the thrill of finally overcoming her fear of riding on rough rocks up on the Rapaki track was as rewarding as the "speed buzz" Jo got as she clocked 85 kilometres per hour coming down the Coronet Peak Skifield Road.
Mountain-biking challenges the physical fitness and technical ability of bikers. For those with a competitive streak, this is particularly important, however challenge is provided for at a number of levels. What is challenging for one person may well be unnoticed by others and this is reflected in the organisation of the New Zealand race series.
Mary, a novice, feels challenged to compete in a higher race class in the next season or to make herself ride to the top of the hill without stopping on her training run, while those who have been mountain-biking for a few years, might have their sights set on the world championships or a particularly difficult technique, like riding down steep hill sides or over large rocks. People most enjoy the level of riding that challenges them personally. Achieving something new can also be exciting in itself as Jo indicated:
. . . to me it's when I'm coming up to something and it's steep and I get down it . . . and you've got to hang right off the back and you're really on the brakes, and that to me is a buzz and I get all excited about it!
Mary also described her experience trying to get up the courage to get over a rock that she had previously found impossible to bike over:
I kept going up to it and stopping and going back. Last time I thought 'OK I'm going to do it', and I went over it . . . and I did it and then I kept wanting to do it - and the smile on my face. I've never been so happy in my whole life.
Mountain-biking provides the necessary conditions for a good quality leisure experience to occur. Csikszentmihalyi (1988) found that throughout the range of leisure activities, from chess through to rock climbing, people experience "flow." Flow occurs when the individual is provided with:
freedom of choice in participation;
a balance of challenge and skill measured by clear goals and unambiguous feedback. In the case of mountain-biking, getting over a difficult rock is a clear goal and success is measured by whether or not one falls off (unambiguous feedback).
deep or focused concentration. For many trampers the concentration is on the surroundings, as shown by the high number of trampers that consider "to see beautiful scenery" as one of the three most important motivations for tramping. In comparison, for bikers concentration is required to maintain one's position on top of the bicycle while negotiating obstacles.
perceived control. This depends on the balance of challenge and skill and is controlled by the individual who chooses to ride on a particular route. Bikers riding on a track that is too difficult for them are unlikely to feel in control, however they may regain their control by dismounting and walking over the troublesome ground.
As Csikszentmihalyi (1985:182) puts it:
. . . people who enjoy what they are doing enter a state of "flow": they concentrate their attention on a limited stimulus field, forget personal problems, lose their sense of time and of themselves, feel competent and in control, and have a sense of harmony and union with their surroundings . . . . . . something that is enjoyable to do gives a feeling of creative discovery, a challenge overcome, a difficulty resolved. People who see what they are doing in these terms tend to enjoy the activity more for its own sake (Csikszentmihalyi, 1985:181-2).
There are very obvious elements of this kind of experience coming through in the descriptions of the respondents above. Both tramping and mountain biking are good flow activities (i.e. activities that allow flow experiences). For trampers, flow might arise from the overwhelming impact of the natural environment, the physical effort required or the social interaction with companions. There is also much enjoyment in the feeling of freedom gained from being in the outdoors, away from the pressures of living in the city and from learning about aspects of the environment. Mountain biking seems to offer a higher level of physical challenge to those who are fit and enjoy the challenge of learning new skills, as well as the possibility of experiencing many similar things to tramping.
The myriad of technical moves, the thrills, and the physical challenges associated with mountain-biking make it an activity that lends itself to the "flow" experience. Riders are always riding to improve and extend their boundaries and the boundaries appear to be limitless. For those bikers who are not trampers, the focus of mountain-biking even on a recreational ride is strongly centred around improving technique and enjoying the company of others. Many are as happy riding through pine trees as bush, suggesting that the surroundings are more important in terms of the physical challenges they offer rather than for their aesthetic qualities. Jo noted that a trip into a bushed track near Christchurch was not particularly satisfactory because her boyfriend had found it too easy, a fact that also emphasises the influence of companions:
J I think I'd rather walk it [the Wharfdale Track] because it's beautiful scenery, but you can't look at it. I did enjoy it, though, for technical [reasons] - it really helped getting over things - tree roots, jumps and slippery bits and things - it really helped.
It appears that the primary focus here was to find challenges that both participants would enjoy. While Jo noticed the surroundings, and felt they might be worth looking at in greater detail, she mentioned that she would not go back there because the experience had largely been unsatisfying and at this point in time the scenery and surroundings are of lesser importance to her.
Overall the mountain-bike rider focuses more on the activity than on the environment, however, it is important to note here that this is only a relative statement. It is important for most mountain-bikers to be in an off-road environment (away from motorised traffic) and, for many, their surroundings become important as the subject of contemplation when they stop for a break. I found a surprising understanding of this amongst some walkers. One male in his 60s, a member of the Summit Road Society, went as far as to say;
I do think mountain-biking is a legitimate, active recreation, and I think that's where the whole trouble comes. It would be very nice to say "no, we don't want it" but when we looked into mountain-biking, we discovered that there is more than one type of mountain-biker. There's the person who rides the bike and enjoys the ride and the scenery, and there is the other person who can't find anything difficult enough . . .
While it is obvious that those in the tramper sample were more concerned with the environment than bikers, most interview respondents indicated that their motivations for biking were many and varied, and that while mountain-biking causes them to interact differently with the environment, their surroundings are still very important. Karen, a regular tramper, after commenting that biking made her see the bush as a contest, said:
. . . on the other hand, I like to be in the bush or I like to be where there's a pleasant outlook and a nasty four wheel drive track through interminable farm country doesn't appeal to me at all.
Bob, also felt that surroundings were important and that being relegated to gravel roads and four wheel drive tracks was unacceptable:
I get very agitated when people start advocating four wheel drive roads and what is second rate country. Sure if part of what we have to ride on is all conifers and exotic plantations - fine- but we will not lie down and let people deny us areas like the Heaphy . . . . "There are thousands of kilometres of gravel roads in New Zealand": I reckon most of that comes from people that haven't done much cycling.
While there are many mountain-bikers who enjoy riding on four wheel drive tracks in open country this is obviously not going to satisfy all bikers, all the time. As their skill increases, they tend to seek out more difficult challenges and as their experience increases, they seek more variety. While using a four wheel drive track may be acceptable some of the time, it will not satisfy bikers who want to get away and enjoy the peace and quiet of the bush.
Mountain-bikers are concerned with their physical fitness. Once again there is a range of approaches; from people who train two hours a day during the week and race or do long training rides at weekends, to those who go out occasionally when they have been unable to do other favourite activities. In all cases, people who ride mountain-bikes off-road are physically very fit.
Physical exercise is also ranked highly as a motivation for tramping, in fact the two groups are not significantly different on this dimension. As a group, mountain-bikers seem to have more aerobic fitness than walkers, reinforcing the idea that bikers are using their bikes to get satisfaction from using the physically easier tracks.
The age difference between the tramper and biker samples may be a factor in the significant difference in focus that was recorded between the two groups. Certainly, many interview respondents noted a change in attitude towards the outdoors over time. Experienced trampers in my sample noted that while they still enjoy challenging tramping and climbing trips, they can now equally enjoy easier trips where they focus on their surroundings at a more leisurely pace. This conversation that occurred during an interview with one couple illustrates the point:
P I've done a lot of alpine tramping so now it doesn't worry me. I think it's just more to be out of town.
Q He's changed. I think you've reached the stage where not everything has to be a full-on trip and you can just go for recreation.
P Yeh, I just like wandering around if it's in the hills: that can be on the Peninsula or anywhere. We're blessed with nice places in New Zealand - a lack of people and nice places.
Also:
I So do you think there has been a change in your focus or motivation?
B I think it has always been there but I've probably become more conscious of it. I think more deeply about it, so I guess the change that has occurred is just thinking about what it means to me.
This change in awareness is similar to that recorded by Simmons and Devlin (1982) in their survey of recreational hunters. Hunters changed from focusing mainly on killing an animal when they first began, through to focusing more on the enjoyment of being in the outdoor environment. It seems reasonable to assume that mountain-bikers also will develop this change in focus and it is evident that this process is occurring even for those bikers who have had no other outdoor experience.
Individuals may have different motivations for mountain-biking at different times depending on the group they are with and how they feel at the time.
. . . if you feel like going slow and stopping and looking at the scenery then you can and if you feel like pushing yourself hard you can really have a hard work-out. And that's the same as tramping where you can put your head down and go for it.
There are few clear patterns that predict people's preferences for tracks with many bikers saying that the best kind of track is one that is varied in terrain and technical difficulty. To some extent, preferences for narrow and more technically difficult tracks develop with experience and with competitiveness. Of my interview respondents, those that rode in the most technically difficult areas were also interested in competing. By comparison bikers with little interest in competition indicated they were more comfortable on wider, smoother tracks, for example four wheel drive tracks and old railway lines or mining roads such as those on the West Coast of the South Island. I suspect that most recreational mountain-bikers would tend to prefer easy, wide and smooth tracks. Quite a number of respondents noted that old mining tracks on the West Coast were the nicest to ride on, while others found mountain-biking a way to enjoy four wheel drive tracks that would be boring to walk.
---
CONFLICT IN RECREATION | Executive Summary | Mountain-biking | Mountain-bikers | Conflict
Politics | NZ Mtb Web