CONFLICT IN RECREATION | Executive Summary | Mountain-biking | Mountain-bikers | Conflict
Politics | NZ Mtb Web
---
Bicycles are the most efficient form of movement on this planet and possibly no more or less environmentally friendly than the boots, clothes, packs and other apparatus outdoor recreationists use. Mountain-biking is the best and I love it!
(Mountain-bike enthusiast: 1993)
Conflict in outdoor recreation is increasing, particularly in periurban areas, as people begin new and different activities utilising new technologies e.g., parapenting, jet skiing, windsurfing and mountain-bikes. Conflicts between the more traditional activities of horse riding, running, and walking have also developed with increasing user numbers. This paper addresses the issue of conflict between trampers and mountain-bikers.
Conflict is a complex web of interactional and situational factors which affect how people think of each other and themselves. Even in recreational conflict, many factors contribute to the conflict process, including how each group perceives the other's actions and values. Conflict is also related to the relative availability (or scarcity) of the recreational resource, hence most conflict occurs between trampers and mountain-bikers in periurban areas where there is high use by many different recreational groups. The pressure on the resource intensifies the feelings of all user groups, many of whom are unable to go elsewhere to participate in their chosen activity.
Mountain-biking is a recreational activity centred around cycling off the road, over varied terrain, on bikes built to withstand hard knocks and rough treatment. It began back in the late 1970s in Marin County in Northern California when two men - Gary Fisher and Charles Crow - built the first "clunkers". The fine art of "clunking" has since spread across the world and clunkers have developed into sophisticated machines with suspensions, lightweight frames, highly effective brakes, and tyres for every possible set of conditions.
The first mountain-bikes were brought to New Zealand from the United States during the early 1980s by returning New Zealanders, and American tourists. From small beginnings, mountain-bikes have become very popular: sales have grown over the last five years to hold more than 50 per cent of the cycle market at the present time. According to our sources, this figure is now levelling out. Mountain-bikers dressed in their padded cycling shorts and bright lycra tops are now a familiar sight on tracks that were once used by foot traffic only.
This growth in sales has been accompanied by the development of competition riding. Many triathlons incorporate mountain-biking as a part of their course and mountain-bike races are held all over the country. While many races are annual or "one off" events that have no connection with each other, bikers can compete in a nationwide race series. Races are designed to allow people of different ages, skills and fitness to compete, and many mountain-bikers take part in a race at some time in their biking career.
Large numbers of mountain-bikers ride recreationally. Mountain-bikes have allowed cyclists to increase their recreational resource by venturing into areas that were previously the exclusive domain of walkers. In comparison, walkers feel that their recreational opportunities are threatened. Meeting bikes on walking tracks impinges on the sense of enjoyment and relaxation that most walkers seek, so, as a result, they have lobbied to exclude bikes from many walking tracks. The process of conflict between the two groups has been affected by incidents in the political arena as well as in recreational places. Bikers are more likely to be young with little interest or experience in political lobbying, whereas those who walk (but do not bike) are generally older, with a better understanding of how to influence the decision-making processes. In the outdoors, however, bikers generally have more perceived control over their own recreational experience than walkers. It appears that walkers' experiences can be diminished by the mere threat of meeting mountain-bikers, whereas bikers notice conflict only when they meet walkers who show an open dislike of them or, when they find they are banned from using tracks. Bikers who lack resources, like knowledge and transport, may use tracks illegally because they feel there is nowhere else to go.
Conflict is, therefore, a complex process that requires an understanding of the activities involved, and the perspective of the two different user groups. Conflict does not occur in isolation, but is a product of the social, psychological, political and physical environments in which the activities occur. This study differs from other studies in recreational conflict because the two groups involved had many members in common. This allowed me to compare the experiences of both biking and walking, and explore the reasons why walkers do not like meeting bikes in off-road situations.
To do this, a mixture of three different methods was used; mail out questionnaires, in-depth interviews and participant observation. The use of participant observation and unstructured interviews have enabled an understanding of the perceptions and interpretations people have of the situation. The mail out questionnaires enabled a large number of people to be contacted. Appendix 1 is a summary of the research methodology.
To begin with, this paper looks at mountain-biking and compares it with tramping. This information is then used to highlight and explain the dynamics of, and reasons for, the conflict situation.
A person that owns a mountain-bike is not automatically a "mountain-biker". Some mountain-bikes are used primarily as a sturdy, more comfortable alternative to the ten-speed and are used for commuting or short trips; for example, from home to the shops. Many bikes that look like mountain-bikes are not, in fact, designed to go off-road. Two schoolboy respondents, from different schools, said that they knew around ten to fifteen people at their school who took their mountain-bikes off-road, however they noted that most of the bikes in the bike stands were 'fat tyre mountain-bike look-alikes.'
Paul, who had spent some time working in the cycle industry noted;
. . . a lot of people never go off-road, in fact in the States I think it's quoted as being 75 to 80 per cent of all mountain-bikers never get off the road. In New Zealand it's probably not that high . . . it would vary but it's probably still quite high.
Rodney, the manager of a bike shop, noted of his customers;
I think most of them do go off-road . . . some only go off-road once a week and some every couple of weeks but they do go out and go off-road . . . other shops might be different . . . .

In the States I used to work part time in a couple of shops over there and only about half of them would go off-road . . . they can afford to buy them as toys over there . . . whereas people here who want to buy a nice bike have to save up so they're not going to buy an expensive mountain-bike and stick it in their garage.
Chavez, Winter and Baas (1993) suggest that only around 30 per cent of mountain-bike owners in the United States ride off-road. Reliable New Zealand figures have proved almost impossible to get (see appendix 1). Two hundred and ninety seven people answered the tramper questionnaire and 65 said they had mountain-bikes. Seventy five to eighty per cent of this group of 65 had been off-road on their bikes. These figures are obtained from tramping club members who have an expressed interest in the outdoors, are a reasonably fit group, are familiar with places that are suitable for bikes and therefore are more likely to take their bikes off-road than the general population. Of the 173 people that returned a mountain-bike questionnaire, 80 per cent had ridden off-road in the last year. Figure 1 shows how the mountain-biker questionnaire respondents used their bikes during the last year. Our sampling of mountain-bikers probably selected for people who had been off-road. Twenty per cent would therefore seem to be a low estimate of how many bikers do not ride off-road.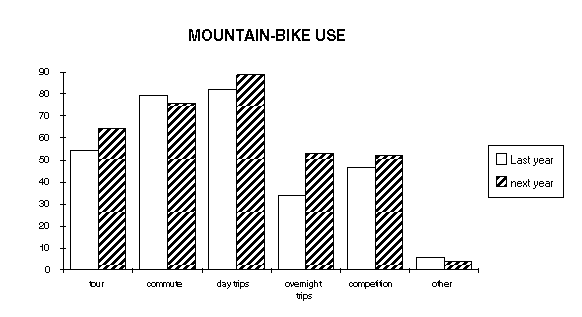 Figure 1:Which of the following (it may be more than one) have you used your mountain-bike for in the last year and Which do you expect to do in the next year?
Of interest in figure one are the high numbers of people that have used their mountain-bikes for commuting and touring. For many respondents, the sturdiness of mountain-bikes and the upright position of travel make mountain-bikes ideal for travelling long distances with panniers or a similar load. Many interviewees mentioned that the upright riding position, and the ability of the bike to withstand the rigours of negotiating curbs in an emergency, and the very responsive braking systems on the bikes, made them very good for commuting and getting around town. Part of the success of mountain-bikes, therefore, lies in their sturdiness, braking capacity, and the feeling of security that this gives a rider.
There are different definitions of "off-road." For the purposes of this study, off-road is includes paper roads, four wheel drive tracks and logging, mining and skifield roads, but whether all of these constitute 'off-road' to all respondents is debatable. For the sake of simplicity, this was something that was left for respondents to decide and, of course, this may have some bearing on the results recorded here. Most of those that I interviewed had similar ideas about what mountain-biking country was like and, for many bikers, the most critical decider was the absence of motorised traffic. For anyone who has tried, there is a big difference between riding on a metalled road with and without motorised traffic. The frequent dust showers that motorised vehicles produce make riding in their presence decidedly unpleasant! The hazards of flying stones and the insecurity of having motorised traffic passing closely also detract from the enjoyment of cycling.
Although 80 per cent of biker respondents had ridden off-road during the last year, actual use may still be low, as more than half of these (44 per cent of the total 173) said they had ridden off-road less than once a month in the last year, as shown in figure 2.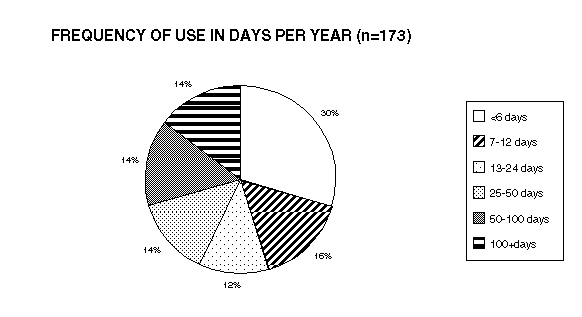 Figure 2: About how many days in the last year would you have gone off-road?
Question 9 in the biker-questionnaire asked "If you go off-road, what areas or tracks do you currently use your mountain-bike on (sic)." Respondents were given three lines for their answers, with line one being the most frequently used place. Fifty one of the 138 people who answered the question, gave only one answer and a further 42 gave only two answers. Periurban areas are, by far, the most commonly used places for riding off-road. Very few respondents did not list periurban places as one of the three they most frequently visited.


Figure 3: If you go off-road, what areas or tracks do you currently use your mountain-bike on? (1=most frequently used)
[Note: "Periurban" was used for any answers that included places like Banks Peninsula, near Christchurch, or the firebreaks around Wellington. Banks Peninsula includes any area on the Peninsula that is not considered part of the Port Hills.]
As one moves further away from major centres, mountain-bike use drops off dramatically. Very few riders do longer trips in more remote areas, and according to the interview data, this use is much less frequent as it requires more time, organisation, access to suitable transport and information. These restrictions are further increased because the lightweight equipment required for a weekend trip on a mountain-bike is very lightweight and therefore more expensive than that needed for tramping.

As figure one shows, mountain-biking includes more than one activity and even these divisions are not really indicative of the range of riding styles that exist. There are different types of recreational riding, for example, and this will be explored later.
For some mountain-bikers, racing is a very important part of mountain-biking and it may be seen as the main reason for developing technical skills and fitness. There is a national series, through the summer months, and usually a winter series. For those who are very keen, there is a competition over the whole series but individuals can enter on a race by race basis. Each race is classed according to age and experience. The classes "novice", "sport" and "expert" provide for a range of technical ability and fitness while each class is divided into "junior", "senior", "masters" and "veteran" according to age.
Four interviewees mentioned that only the top few riders actually race and most others "just ride", however everyone, who had done both, reported having a different approach to recreational riding than to racing. While many do not race for first place, they race against themselves or against those that beat them last time. For Mary, just competing the first time was a victory even though she was last by twenty minutes. The second time, her aim was to not let anyone pass her. For Jo, doing well in the national series as a whole and aggregating points were important. It seems, then that most competitors approach a race quite differently to the way they approach a recreational ride.
J. A ride is more leisurely - those that want to, go ahead - those that don't, stay back and you have a lunch break - picnic - [you] don't do that in a race.
P . . . you wouldn't stop for lunch . . . no it's a different sort of thing - you're in full race mode - you just keep going . . .
M Well when I'm riding I put my bike over the fence and place it down, when I'm racing it's just Poww! - you know - I'm really quick and I jump over the fence.
Very occasionally a race may be treated as a ride, although Paul appeared to treat this story as a (slightly admirable) joke:
P . . . X and three other old guys went to a race in Geraldine and took their lunch - it took them 7 hours when the winning time was 4 hours but they weren't worried they were just there for the ride.
These four riders saw this race as an opportunity to visit an interesting area that they could not use at other times because it is not normally open for public use.
Racing is a social event with many of the same people competing week after week, so that individuals get to know each other well. The resulting strong social groups encourage continued participation. Although the Canterbury Mountain-Bike Club stresses its recreational focus, most of the members know each other from competition, so most of the conversation on club rides centres around racing. The status group or reference group (Jacob & Schreyer, 1980) with whom most club members identify, are racers. In this way, the club inadvertently perpetuates its competitive image which is the image it is actually trying to change. The club president frequently stressed that the club was for recreational riding, and was trying to attract new members from amongst the ranks of non-competitive riders. At present, those without an interest in competing are unlikely to fit easily into the group, although this could change if the club gets a core of people who are more recreational in their focus.
All those who race, train in order to keep up or improve. Serious competitors train for two to three hours a day during the week and longer at weekends. On top of this, competitors may spend time weight training or attending aerobics classes. For those who are more heavily involved, training is a time-consuming business that requires a lot of dedication:
J . . . well I do aerobics - I bike a hundred K's a week regardless but that's . . . [on flat roads] . . . if I can stick in something at lunchtime . . . I've only got time for a ride to Q's workplace, which is a flat ride, or I ride for a hill ride up to the Summit Road, up to the Sign of the Kiwi and back down - and then after work I do rides, like I go up somewhere that's quite hard - a gnarly hill climb.
I think you've got to keep a balance otherwise you can't improve everything - my strongest point is my fitness and then my uphilling - my weakness is my downhilling and my technical ability so I work on them, but at the same time I can't forget my fitness.
Competitors frequently use periurban tracks during the week for training runs, however their impact on other users in the area is minimal because most of them train in the early morning or late evening outside of normal work hours. Many report trying to avoid walkers by making the effort to use these "off-peak" times, even at weekends. The implication here was that many bikers would prefer to ride at other times of the day, but they are sensitive to high use.
For some, competitive mountain-biking holds little attraction. Mountain-biking is still a challenge, a good way of maintaining fitness, but it is also a pleasant way to get into the outdoors for a few hours or a few days. The mountain-bike can be a means to an end as well as an end in itself and getting to a nice environment can be the main reason for a ride. For Tracey, her bike was a way to enjoy the natural environment, access the bush and take in the views that she came across en route:
I stop and look and appreciate the bush and the birds . . . I could be going round some bays and I come to a lovely lookout and I'll just stop and look or I see this neat patch of bush and I get a bit closer and realise it's a reserve - I tie up the bike and go and have a look in the reserve - so my mountain-biking is sometimes a means to an end to get to locations but certainly it's a way of appreciating the nice environment . . .
Roger and Sue felt that biking was an ideal form of transport along four wheel drive tracks that give access to walking tracks. They considered that mountain-biking was better than walking on a four wheel drive track, but on more "interesting" tracks, walking was a better form of transport. For other mountain-bikers, four wheel drive tracks are too boring; walking tracks have a feeling of intimacy and offer more technically challenging riding.
Overall each individual has their own set of preferences and motivations for recreational riding, a fact highlighted when one couple spoke of a "recipe" of factors that make outdoor recreation, as a whole, enjoyable.
Part of the recipe that we're talking about is going under your own steam and using up a bit of energy in a nice environment.
Each person therefore has a set of motivations that can be adapted to optimise the opportunities and resources available to them at the time. Many respondents also indicated that the recipe is influenced by the people or group they go biking with. The role of the group is also important in tramping: Barker (1989), for example, found that experienced trampers often go on easier, more social trips with friends who are less experienced than themselves, and go on more challenging trips with friends who are experienced.
Recreational riding has been the primary focus of this study because recreational riders have the greatest impact on other users. They use tracks at similar times to walkers and there are much larger numbers of them in the more heavily used areas.
---
CONFLICT IN RECREATION | Executive Summary | Mountain-biking | Mountain-bikers | Conflict
Politics | NZ Mtb Web